People think of solar as something you attach to a house or install next to it. In other words, the building came first, the solar energy system later. We hear about adding solar, or converting to solar.
But what if solar energy was factored in from the start? What could our homes and towns look like with integrated solar energy capture?
Here we take a look at three fascinating, leading-edge technologies that could move solar energy further into the mainstream while standing out as really cool too.
Get A Free Solar Quote Now
Solar Lights the Way
You've probably noticed solar panels perched atop a streetlamp here or there. You might have passed an emergency callbox or a wildlife warning sign on the highway with a solar panel "hat" to provide operating juice.
Take a look at this sleek solar streetlamp by FlexSol Solutions, with panels seamlessly integrated into the post.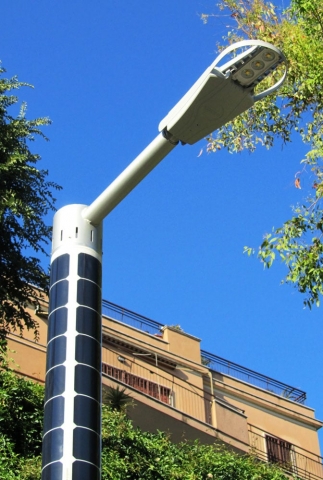 FlexSol Solutions is a Dutch high-tech company founded on a unique technology for curving highly efficient monocrystalline silicon solar cells. This results in products that are not only very practical, but also aesthetically pleasing, boasts the company's website. Installation is easy and cheap because no cables are needed.
Lennert van den Berg, CEO of FlexSol Solutions, says, "In future societies energy usage will get decentralized. It's not just houses that will become autonomous, but also public lighting." The company abides by the slogan, "We believe in the beauty of solar energyz!" [sic]
Interested in upgrading your home with solar energy? Connect with a friendly local installer today!
The lamppost typifies what we mean by integrated solar. At the dawn of electric light, our ancestors noticed bulbs and filaments—today we only notice the lampshade, if anything. This could be true with solar-powered lighting as well. When solar panels are integrated into a pleasing mosaic on the lamppost, they disappear all but for the beauty they leave.
Windows Into Solar's Future
Your windows let sunlight into your home, so why not convert some of it to household energy? That's the idea behind clear solar panels. Organic solar cell material has long distinguished itself by its transparency, opening the door—or should we say the window?—to energy-generating solar windows.
Ubiquitous Energy, headquartered in Redwood City, California, builds transparent solar windows with organic solar cell material, focusing its initial efforts on architectural glass. Last year the firm claimed a world record for efficiency of a transparent solar cell with a 9.8% power conversion rate. The efficiency of the small organic solar cell was certified by private, independent test lab Newport Corporation.
Ubiquitous Energy's director of business development, Veeral Hardev, told PV Magazine that the production window product should have an efficiency of 7% to 10%.
Applied directly on glass using standard glass coating equipment, Ubiquitous Energy's coating is highly transparent and color neutral. The coating absorbs and converts nonvisible light (ultraviolet and infrared) to electricity. The company installed approximately 100 square feet of solar windows at its headquarters. This is "the world's first truly transparent solar window façade," according to Businesswire.
"Commercializing an integrated solar façade is not just an engineering problem," wrote PV magazine. "It means driving a completely new type of window and curtain wall product through the very conservative building channel—and that's a daunting marketing challenge."
Blinds That Give Your Home Energy While Giving You Shade
From Ukrainian startup company SolarGaps comes our third example of integrated solar. This project could be seen as a cross between the previous two we discussed. First, these solar panels are integrated into a structure that would already exist without them—in this case, window blinds. Second, SolarGaps' idea is to capture sunlight in your home or building's own windows, ideal for when rooftop solar panels are impractical.
SolarGaps' CEO, Yevgen Erik, was quoted in TechCrunch saying, "To get best results your SolarGaps should be facing the sun and not under any shade, and you should rotate blinds using our application to get the best results."
Of course, blinds and shutters are worthwhile for energy conservation even when they don't have solar capture technology built in. SolarGaps takes that benefit into account when describing the overall value of its innovative product. Erik points out that the shade provided by the blinds "will help reduce energy wasted on AC by up to 40%, and your payback period may just be three years or less depending on how frequently you are using AC. We can reduce this and try to help solve climate change."
What would your solar energy system look like? Explore your money-saving options today!
Get A Free Solar Quote Now